Sen. Boxer and Mothers of Children Killed by Medical Malpractice Speak Out for Prop. 46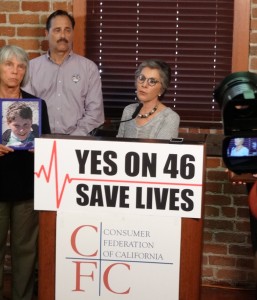 U.S. Sen. Barbara Boxer held a press conference at the Consumer Federation of California's San Francisco office last week. She was joined by five mothers with anguished stories of medical malpractice that took the lives of their children – and hopeful news about how voters can help promote justice in such cases, and even prevent some of them, if they approve Proposition 46 on Nov. 4.
The campaign released a 30-second commercial narrated by Boxer that outlines the benefits Prop 46 offers, and features poignant photos of children lost to preventable medical errors.
"I'm here today because I'm a grieving mom, a mom who understands all too well the devastating impacts of medical negligence," said Tammy Smick, the first to recount the alarming medical missteps that took the life of her child. Alex died in an Orange County hospital after being given "a lethal combination of medications" and then being left unattended for an extended time.
"In my quest to seek justice and accountability I sought legal counsel, and that's how I found out about MICRA, an unfair and outdated law that limits the value of my son's life at $250,000," Smick said, referring to the Medical Injury Compensation Reform Act that has capped payments for pain and suffering due to medical malpractice in California at that amount since 1975.
"Alex is priceless, and there is no amount of money that would ease my pain and suffering, but I do want accountability and I want justice for my son. Sadly, because of the MICRA cap and the high cost of litigating a malpractice case, most families like mine are denied access to justice."
MICRA's $250,000 cap never adjusted for 39 years of inflation
Next up, Sarah Hitchcock-Glover of Los Gatos told how her 12-year-old son Adam collapsed in her arms following an appendectomy – the wrong procedure for his condition, administered due to a misdiagnosis that failed to address his real ailment. Adam died "an easily preventable death" just hours later.
"We still need answers and we deserve accountability," the grieving mother said. "When children, seniors, stay-at-home moms die from medical negligence, the 39-year old cap on damages in the state of California prevents too many cases from being heard."
That's because of MICRA's inequitable provisions for victims of medical malpractice or their survivors. They can seek full compensation for lost income based on a victim's established ability to earn – but patients whose earnings potential is limited – such as the elderly, full-time parents, and children – can only claim "non-economic damages" for pain and suffering.
The $250,000 limit on damages for pain and suffering damages has never been adjusted for inflation, even though the Consumer Price Index has risen more than 335 percent since MICRA became law in 1975. The result: People who have already been victimized by medical error or incompetence, but who can't point to economic damages, are largely out of luck. Compounding the injustice, the medical defendants and their insurers lack the needed incentive to correct their methods and procedures.
As Adam's mom said, "Lessons are not learned. This cap enriches the insurance industry, and it protects negligent doctors by putting them outside the reach of judicial accountability."
More poignant stories, no justice
One by one, the other mothers shared their heartrending stories:
Jennifer Westhoff's 21-month old daughter Morgan died after an avoidable surgery at Children's Hospital Oakland caused cardiac arrest and catastrophic brain damage.
Linda Wilkinson's daughter Brittany, 18, who had been confined to a wheelchair while fighting a rare disease, "died the most horrific death" after inadequate care following brain surgery at Children's Hospital Central California in Madera; medical personnel failed to realize a critical cranial monitor was disconnected.
Claire McCormack's 3-year-old daughter Nora ("a smart little girl with an irresistible sense of humor and a zest for life,") died because doctors failed to realize that her intravenous nutrition had been disconnected for more than two days.
Introducing each speaker was Bob Pack, the author of Proposition 46 – formally titled the Troy and Alana Pack Patient Safety Act in honor of his children, killed by a drugged driver who'd been issued multiple prescriptions for pain-killers. Pack explained how, in addition to raising the cap on pain and suffering, Prop 46 could help prevent similar tragedy by requiring physicians to check a state prescription database to help reduce such multiple prescriptions; it would also impose random drug testing on doctors.
Boxer: MICRA slashed a $7.1 million jury award to $250,000
Sen. Boxer also had a story to tell when her turn came, of a young California man who was blinded and brain-damaged by easily preventable errors in the medical treatment he received following an accident. A jury that heard the evidence awarded him $7.1 million in non-economic damages – "but that award fell by the wayside," Boxer reported, because due to MICRA "the judge was forced to reduce the amount to $250,000."
It's a tragically common occurrence. Because jurors cannot be told of the MICRA cap, they frequently agree on reasonable compensation for pain and suffering that that far exceeds the amount that can actually be authorized.
"These mothers, they're not an anomaly. Medical errors are the third-leading cause of death in America. Only cancer and heart disease take more lives," Boxer said, calling it a major public health crisis.
"Prop 46 will prevent medical errors in the first place," Boxer continued, because it will give doctors, hospitals – and their insurance providers – the incentive they need to clean up their act. "Trust me when I tell you that the $250,000 cap goes into a lot of calculations by insurance companies … These insurance companies think about their bottom line. They don't think about the lives [affected]."
'One big lie after the other'
Of course, insurers and doctors are well-heeled interest groups with hordes of money to spend. At last count, the California Medical Association, California Association of Hospitals and Health Systems, Medical Insurance Exchange of California and other opponents of Prop 46 have raised more than $58 million to fight the measure – well over 10 times what Yeson46.org has raised.
Responding to a reporter's question about that, Boxer brought the focus back to the mourning mothers around her, to the power of their tragic stories – and to the fact that what happened to them can happen to anyone.
"If we get the truth out, we will win," Boxer predicted. "They're going to fight us – one big lie after the other big lie after the other big lie. We're not afraid of them. I'm not afraid of them. All the money in the world doesn't scare me. We are going to continue to fight. This is David and Goliath, and guess what: The last time I checked, people want the Davids [to win]. All we have to do is get [the truth] out there. How can anyone turn away from these women?"
Hear the entire 45-minute press conference.
Tags: Barbara Boxer, Prop 46