Shakeup at PG&E, State Agency over 'Inappropriate' Talks
by Jaxon Van Derbeken, San Francisco Chronicle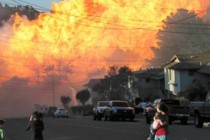 Three Pacific Gas and Electric Co. executives and a top aide to the head of the California Public Utilities Commission were ousted Monday over "inappropriate" back-channel communications showing that the company lobbied regulators to appoint its preferred judge to a key rate-setting case stemming from the San Bruno explosion.
The president of the utilities commission,Michael Peevey, also agreed to step aside from voting on whether to uphold a proposed $1.4 billion penalty against the company for the deadly disaster.
The revelations and shakeup followed a lawsuit by San Bruno officials seeking communications between the utility and the commission. After receiving a batch of 7,000 e-mails in July, the city asked Peevey to recuse himself from the penalty case, saying the e-mails showed an overly cozy relationship between the company and the state agency that regulates it.
While denying wrongdoing, PG&E promised a probe of 65,000 additional e-mail communications over a five-year period. On Monday, the utility disclosed a string of new e-mails – all from January of this year – that showed PG&E influenced the selection of an administrative law judge to decide how much of a burden customers should bear for billions of dollars of gas-pipeline improvements after the San Bruno blast.
The e-mails showed that PG&E's vice president of regulatory relations, Brian Cherry, told Peevey's top aide that one prospective judge posed a "major problem for us," and objected to another judge who had overseen a case in which the company "got screwed royally."
A colleague of Peevey's on the five-member commission, Mike Florio, agreed with PG&E that "you really couldn't do any worse" than one of the judges and said, "I'll do what I can" to get the company's preferred judge assigned to the case, the e-mails show.
PG&E ultimately got its way, and the commission's top administrative law judge named the company's preferred judge to decide how much customers' rates will rise to pay for safer pipelines.
As a result of its investigation, PG&E said three top executives in its regulatory division – Cherry, his boss, Tom Bottorff, and an underling, Trina Horner – had been fired for violating commission rules regarding communications with regulators. Both Bottorff, the company's vice president over regulatory affairs, and Cherry played key roles in the company's defense in the San Bruno case and in the proceedings over how much the utility should be made to pay for safety improvements after the blast.
President won't vote
At the utilities commission, Peevey asked his chief of staff, Carol Brown, to resign. He also said he would not take part in any commission vote on how much PG&E should be penalized for the September 2010 explosion that killed eight people in San Bruno and destroyed 38 homes.
Earlier e-mails showed Brown advising another top PG&E official about how to get around a public request for information in the San Bruno case. The PG&E official replied to that advice, "Love you."
The newly uncovered e-mails show direct communications between PG&E officials and Peevey's office, including Peevey himself, concerning who should pay for the billions of dollars in pipeline improvements.
In mid-January, the utility learned that administrative law Judge Douglas Long was going to be appointed to preside over the case.
Cherry complained to Brown and Peevey about Long, saying in one e-mail, "This is a major problem for us."
Cherry wrote that PG&E preferred another judge, John Wong. "There is a huge world of difference between Long and Wong," he told Brown. "I'm not sure we could get someone worse. This is a very important case that is now in jeopardy."
On Jan. 22, Brown e-mailed Cherry and Commissioner Florio, saying, "The judge division kindly revisited its assignment and the matter will now be under the guidance of Judge Julie Halligan who is excited about the assignment and it will allow her to use her vast gas pipeline experience! This notice has not been issued – so do not broadcast too broadly!"
'Screwed royally'
Cherry, however, wasn't pleased, recalling in an e-mail to Brown that Halligan had overseen a regulatory dispute in which "we got screwed royally." He said in a separate e-mail that Bottorff, his boss, "is going to have a harder time" internally "as a result of not getting Wong."
"I can't control everything!" Brown told Cherry, adding that Halligan "knows what she is doing and is not too busy."
After Cherry again nudged Brown, she replied, "Working on it – I hope all the mess is worth it."
Cherry replied, "You will own me if you do. ;-)."
Brown notified Cherry on Jan. 27 that Wong would hear the case.
"Thank you. Thank you. Thank you," Cherry replied.
The e-mails show that PG&E's executives were also in regular contact with Florio, a former attorney for the consumer advocate group The Utility Reform Network whom Gov. Jerry Brown named to the commission in 2011.
Strong objection
"I'm horrified" about the prospect Long would oversee the case, Florio told Cherry in one e-mail. "He may retire any day, and uses that as a threat to deflect any direction."
Florio added, "If I were you I would bump him (Long) – you really can't do any worse! Even a brand new ALJ (administrative law judge) would at least work hard and try – you'll get neither from him. … Keep me posted and I'll do what I can on this end."
After Wong was assigned to the case, which is ongoing, Florio e-mailed Cherry, "I trust you're happier now?? Not sure how this came about, but John is the best."
In a statement Monday, the utilities commission noted that the back-channel "inappropriate exchange" between PG&E and Peevey's office was not directly related to the San Bruno penalty case. Still, Peevey will recuse himself from that case "to eliminate any appearance of impropriety," the commission said.
The statement quoted Peevey as saying, "I feel that my voluntary recusal should ensure the public's confidence in the credibility and objectivity of the CPUC's decisions."
PG&E says it will appeal the $1.4 billion penalty levied by two administrative law judges, arguing that the company should get more credit for pipeline improvements it has already made. Any appeal is likely to come before the commission, all of whose members were appointed by Brown.
Commissioner's statement
Florio did not recuse himself from the case Monday. The commission's statement quoted him as saying, "I want to assure those practicing before us, the many stakeholders to our proceedings and the public that this will not happen again."
PG&E said in a statement that it believed the e-mail exchanges violated commission rules covering communications with regulators.
"As a company, we must be committed to complying with both the letter and the spirit of the law and PG&E's own code of conduct at all times," PG&E President Chris Johns and parent company CEO Tony Earley said in a joint letter to employees. "No excuses. That is, and must be, the standard for our behavior individually and as a company."
But San Bruno officials were not satisfied that the commission's and PG&E's actions Monday went far enough.
"These e-mails show that PG&E thinks that they run the commission," said Britt Strottman, an attorney for the city. "PG&E was engaging in illegal communications with the CPUC with impunity."
Tags: CPUC, PG&E, San Bruno Explosion, The Utility Reform Network