Survey: Most smartphone owners support kill switch; industry lobbyists remain opposed
by Jonah Owen Lamb, The San Francisco Examiner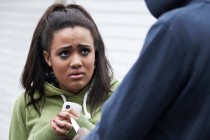 A majority of the public as well as smartphone manufacturers and carriers back laws requiring shut-off technology in smartphones to combat thefts, but industry lobbyists still oppose such efforts, according to a survey and the District Attorney's office.
Such overwhelming public support for a kill switch comes when thefts of smartphones and other electronic devices are on the rise and states and cities continue pushing legislation requiring such technology.
Meanwhile, though most of the industry's manufacturers and carriers back the kill switch individually, its lobbying arm, CTIA-The Wireless Association, opposes a law mandating such technology, according to the District Attorney's Office.
"The companies that make 97 percent of smartphones sold in the U.S. have removed their opposition to the bill, yet CTIA remains opposed," Max Szabo of the District Attorney's Office said. "It raises the question of whether these insurance giants are hiding behind this lobbying group in an attempt to protect the profits they're reaping at the expense of public safety."
For its part, the public is undivided on the need for kill switches, which render devices inoperable in the event of theft.
Ninety-nine percent of smartphone owners say they want kill switches in their phones, according to a new survey of 1,200 respondents. According to the survey – authored by William Duckworth of Creighton University – 83 percent of respondents said a kill switch would reduce theft.
Industry efforts have had little impact on dropping thefts, said District Attorney George Gascón. The stolen-phone database, which switches off phones that have been taken, requires consumers to report their phones and does not include all carriers.
"The … theft-deterrent features we have been advocating for will not only save millions of people from violent victimization, it will also save consumers billions of dollars," Gascón said.
State Sen. Mark Leno's Smartphone Theft Prevention Act (Senate Bill 962) – set to go to the Assembly floor Aug. 7 – seeks to achieve those goals.
But industry lobbyists say efforts like the stolen-phone database have had results.
"State-by-state technology mandates stifle innovation to the ultimate detriment to the consumer," CTIA spokesman Jamie Hastings said. "The safety and security of wireless users is the wireless industry's top priority, and we've taken significant actions to provide consumers with the tools and information needed to help deter smartphone theft."
Charges that the industry profits from stolen phones and insurance premiums, said Hastings, are "insulting and completely erroneous."
Still, there is a lot of money at stake.
According to Duckworth, Americans would save $3.4 billion annually if their phones had kill switches. Each year, according to Duckworth, Americans spend $1.1 billion replacing stolen phones and another $5.5 billion paying for premium cellphone insurance policies.
Tracking phone theft
Consumers want kill switches on smartphones to protect their data.
50: Percentage of robberies in The City in 2012 involving mobile devices
2,400: Number of smartphones stolen in The City in 2013
23: Percent increase in phone theft since 2012
3.1 million: number of smartphones stolen nationwide in 2013
Source: District Attorney's Office, Consumer Reports
Survey:
99: Percentage of smartphone owners who say kill switches should be provided
83: Percentage of smartphone owners who think kill switches would reduce theft
93: Percentage of smartphone owners who say kill switches should be a free option
Source: William Duckworth,Creighton University
Tags: George Gascon, Mark Leno, sb 962, Smartphones