The CFPB has only just begun tackling financial services in its first four years
by Ashlee Kieler, Consumerist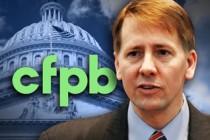 Four years ago, the Consumer Financial Protection Bureau was created – and three years ago it opened its doors – as a safeguard to ensure the financial industry followed the rules when selling products and services to consumers – and a lot has happened since that time.
From returning billions of dollars to consumers who were wrong by financial services to holding for-profit colleges accountable for their deceptions, the work of the CFPB has touched many areas of the financial world and it continues to expand.
Credit card enforcement actions
Since opening in July 2011, the CFPB has helped to return $1.5 billion to consumers who were allegedly deceived with fraudulent add-on products from credit card companies.
Just last month, the CFPB announced the largest credit card discrimination settlement in U.S. history when GE Capital (which changed its name to Synchrony Bank) agreed to fork over $225 million in relief to 750,000 consumers for illegal and discriminatory credit card practices. Of the settlement amount, nearly $56 million will be refunded to 638,000 GE Capital customers who were allegedly affected by the card's deceptive marketing of add-on products and services.
Back in December, American Express said it would refund consumers $59.5 million for bad billing and deceptive marketing practices.
Shining the light on student loans
The Bureau offers a number of student loan resources for students and families.
Back in the spring of 2013, the CFPB's Student Loan Ombudsman Rohit Chopra took part in a series of stories for Consumerist answering readers' questions about comparing, paying for, and getting out from under student loans.
The CFPB has created a number of reports that highlight the ongoing debt issues faced by student loan borrowers. This spring, the Bureau brought student loan automatic defaults to the forefront – Chopra answered questions and offered suggestions for students facing the often financially crippling phenomenon.
Wielding the hand of enforcement
For the first time in its history, the CFPB filed took action against a for-profit college institution by filing a federal lawsuit alleging the college exploited students and pushed them into high-cost private student loans.
The complaint charges that between 2009 and 2011 ITT Educational Services, Inc., pressured students into predatory loans and mislead students on future job prospects and salaries.
Changing the payday loan playing field
Earlier this year a CFPB report found that nearly four out of five payday loans are made to consumers who are already caught in the debt trap.
Following the report's release, officials with the CFPB announced they were in the "late stages" of rule making that would stop predatory payday lending practices.
While that was in March and no rule has been revealed, the CFPB has continued to seek enforcement action against deceptive payday companies.
Just last week, the Bureau announced that Texas-based ACE Cash Express would provide $5 million in refunds to consumers and pay a $5 million penalty for allegedly engaging in illegal debt collection practices in order to push consumers into taking out additional loans they could not afford.
Previously, the Bureau announced probes into a number of high-profile payday loan operations including MoneyMutual, CashCall and World Acceptance Corp.
Mortgage rights for all
Given that the CFPB was borne out of the mess that was the 2008 financial crisis, it should come as no surprise that the bureau has tackled a number of housing and mortgage related issues. From creating asimpler form for mortgages to holding companies that received kickbacks accountable the CFPB's work relating to mortgages has been wide-reaching.
Back in 2012, the Bureau unveiled a number of rules to clean up the mortgage-servicing industry, including the mandate that mortgage servicers warn homeowners "before any interest rate adjustments, provide options for delinquent borrowers to avoid foreclosure, investigate errors within 30 days and improve staff accessibility to consumers" and more.
Those rules were updated this year and included a special set of protections for military servicemembers, including dual tracking, streamlining help for borrowers, and requiring better service from loan servicers.
Another new rule the CFPB helped to initiate went into effect this January and requires banks to make sure borrowers can actually repay their mortgage.
And when services and lenders don't abide by the rules, the CFPB has taken steps to right the wrong.
In June, the regulators were part of a group of federal agencies that took SunTrust Mortgage, Inc. to task for alleged illegal practices. A court order requires the company to provide $500 million in loss-mitigation relief to underwater borrowers and to pay $40 million to approximately 48,000 consumers who lost their homes to foreclosure because of illegal practices the company took part in from 2008 to 2013.
While the CFPB has provided assistance to millions of consumers in its short time, there is undoubtedly more issues to be addressed.
Tags: CFPB, Payday Loans, Predatory Lending