The Sharing Economy: 21st Century Technology, 19th Century Worker Protections
by Amanda Armstrong, In These Times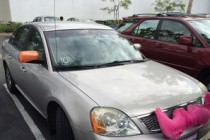 This summer, the California legislature passed two bills designed to protect workers and consumers caught up in the growing temp and "sharing" economies. While improvements upon the status quo, these legislative reforms, recently signed into law by Governor Brown, exclude some of the most vulnerable workers from the protections they provide.
Most significantly, the bills do not establish protections for those working in the sharing economy, including those driving for Uber and Lyft. The state continues to classify these workers as "independent contractors," thus denying them workers' compensation benefits and other labor rights. In excluding this ever-growing class of workers from basic protections, the state is allowing a new sector of the economy to be built on laissez faire labor regimes comparable to those that existed before the passage of workers' compensation legislation in the early twentieth century, with potentially dire consequences for those whose labor makes the "sharing economy" run.
The first bill, AB 1897, seeks to hold companies liable for temp workers' injuries. A 2013 ProPublica report noted that temporary employees in California suffered a 50% higher rate of injuries than permanent employees, in part because the companies that profited from their labor generally did not have to pay for their injuries in the form of higher workers' compensation premiums. Firms could employ temp agencies or subcontractors in order to avoid liability.
AB 1897 closes this loophole and thus helps protect hundreds of thousands of temp employees in California, including workers employed in manufacturing and similarly dangerous industries. The bill doesn't, however, protect workers classified as "private contractors," including Uber drivers, Homejoy housecleaners, and others whose labor generates profits for those who run the burgeoning "sharing economy." Those classified as private contractors are imagined to be working for themselves; they are seen as entrepreneurs who choose to take on risk, rather than employees who are entitled to basic workplace protections.
Tags: CFC, Sharecropper Economy, Transportation Network Companies, Uber