This Is How Your Gmail Account Got Hacked
by Jose Pagliery, CNN Money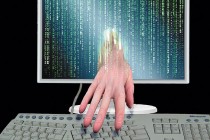 NEW YORK – If your Gmail account got hacked, blame your friends.
You are 36 times more likely to get scammed if your contacts' accounts have been hacked, according to a study released this week by Google.
It's rare. On an average day, only nine in 1 million accounts gets stolen. But when it happens, the operation is swift. These are professional criminals at work, looking through your email to steal your bank account information.
The criminals are concentrated in five countries. Most of them live in China, Ivory Coast, Malaysia, Nigeria and South Africa. But they attack people worldwide, duping them into handing over Gmail usernames and passwords.
Google has effective scans to block them and emergency options to get your account back. But criminals still manage to pull off the attacks.
Here's some more of what Google found in its three-year study.
In the mind of a hacker
Effective scams work 45% of the time. This number sounds huge, but well-crafted scams can be convincing. They send official-looking emails requesting your login credentials. And sometimes they redirect you to a page that looks like a Google login, but it's not.
Safety tip: Don't ever email your username or password — anywhere. And always check the Internet address in the URL above to ensure you're at the actual Gmail site.