Top Android app a scam, pulled from Google Play
by Stephanie Mlot, PC Mag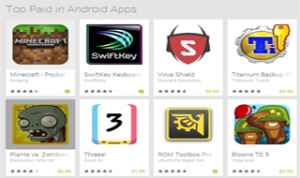 The Virus Shield for Android app shot to the top of the Google Play store earlier this month. But the app, made by Deviant Solutions, didn't exactly work as advertised and has been removed from the store.
It turns out the popular, well-rated, easy-to-use application, which promised to prevent "harmful apps from being installed on your device" for just $3.99, is nothing more than a scam.
According to Android Police, Virus Shield is a fake security app: Instead of scanning apps, settings, files, and media, like the service advertises, its shield icon simply changes from an "X" image to a check mark after a single tap.
For confirmation, the tech blog decompiled the app and mirrored the java code; programmer Zhuowei Zhang tweeted about the scam, writing that "it's literally a single activity that displays a picture," and calling Virus Shield the "crap app of the week."
The application can be traced to a Live.com email address, though no further details are available. PCMag reached out to the given address, but did not immediately receive a response.
The issue highlights the ease with which developers can add apps to Android stores like Google Play. That makes it more open than Apple's tightly controlled App Store, but users have to be much more vigilant when downloading apps than iOS users.
"Perhaps a more hands-on approach to monitoring apps that rise as rapidly as Virus Shield (which we're almost certain did so with less than genuine downloads and reviews) is called for," Android Police recommended.
Google did not immediately respond to PCMag's request for comment.