True cost of transporting a $25 checked bag? About $2
by Ellen Creager, Detroit Free Press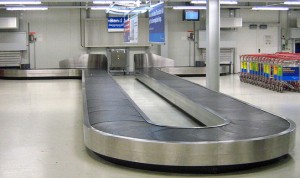 When airlines began charging for checked bags in 2008, they blamed the high cost of jet fuel for the move.
But how much does it actually cost an airline in jet fuel to transport your suitcase?
About $2 and maybe less, a Free Press analysis shows.
That means the airline is charging you more than 12 times its cost when it makes you pay a $25 baggage fee.
The Free Press extrapolated the cost from information in a recent American Airlines press release that touted cost savings by having pilots carry 1.35-pound iPads instead of lugging heavy 35-pound flight manual jet bags aboard each flight.
American Airlines did not dispute the Free Press number, nor did Airlines for America, the industry trade group.
"Your numbers I guess are correct," confirmed American Airlines spokesman Matt Miller. But he said things are not so simple. "It would be difficult to align those two things; why is the airline charging me $25 when it only costs them $2?" he said. "But it's not directly linked to that. It's a revenue stream."
It certainly is.
Fuel only a part
Last year, U.S. airlines made $2.5 billion in baggage fees just in the first three quarters, according to the U.S. Department of Transportation. Since 2008, airlines have made nearly $18 billion in baggage fees alone.
Yet Airlines for America spokeswoman Katie Connell said that far more costs are involved in transporting your checked bag than jet fuel alone — things like airport rents, salaries and bag transport and tracking systems.
Fees also have helped the fragile airline industry regain its health after a rough decade of mergers and bankruptcies.
Still.
It's another example of mission creep. You start out by covering your fuel costs and suddenly you are using the fee as an essential moneymaker.
Airlines normally never reveal anything about actual costs of flying passengers or their bags. But an industry source pointed out to me the American Airlines document, which perhaps revealed more than the airline wished.
The Free Press calculations took into account the total number of system-wide mainline flights, the price of jet fuel, and how many pilots aboard would swap out kits for iPads.
Skipping the checked bag
If the bag fee is not directly related to fuel cost, what exactly is it based on? How do they come up with $25? Part of it is by factoring in other costs.
"While we do not have an average cost per bag, your estimate does not reflect the total cost involved with transporting bags as that cost involves a significant number of additional factors," says Connell, adding that "by having a profit margin, airlines have been able to improve baggage handling performance to the benefit of customers."
Yet, part of the fee likely is a deterrent. At $25 for the first bag and $100 for the second, it causes some passengers to avoid checking bags entirely, thus making the plane lighter. Airlines face constant pressure to reduce fuel costs, whether by making carpets thinner, seats slimmer, magazines smaller — or by giving pilots iPads.
Southwest Airlines and Jet Blue still allow one free checked bag. All other airlines not only charge baggage fees but have been raising some of them in the past year, despite the fact that jet fuel prices remain steady. Spirit Airlines now even charges for carry-ons — and I wouldn't be surprised to see other airlines give in to that temptation soon.
Passengers might not be able to change these things. That might be the future cost of flying. Que sera, sera.
But now you know that just $2 of your baggage fee is for the fuel.