Walgreens store redesign raises privacy concerns
by Chris Richard, KQED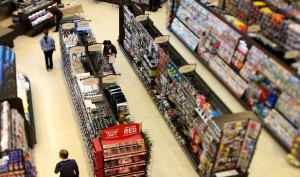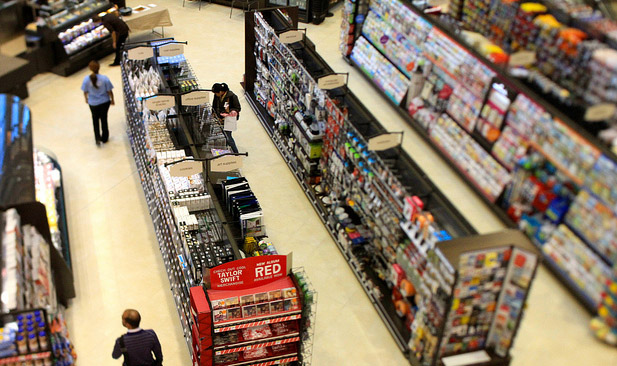 Privacy activists are voicing concern that Walgreens pharmacies may endanger the confidentiality of customer records with a new business model that places pharmacists at a desk on the store floor.
The "Well Experience" model makes it much easier for customers to view pharmacists' computer screens and documents on their desks, according to a report prepared by the research arm of Change to Win, a labor-backed organization whose constituents include pharmacists and pharmacy technician unions.
"We have heard from pharmacists, not necessarily in our membership, who work in this model, who are very concerned about its implications for the practice of pharmacy," said Nell Geiser, associate director of Change to Win Retail Initiatives.
"Pharmacists want to do their job well and serve the public, and they also want to protect their license, which is on the line if any error takes place in their pharmacy."
Change to Win is concerned about the possibility of increased thefts — especially of narcotics –   as well as the risk of errors in formulating prescriptions under the new Walgreens model. The model removes pharmacists from their usual in-person supervisory role, Geiser said.
The organization's investigators visited 50 Well Experience pharmacies in Florida, Illinois and Indiana in September. Change to Win alleges that in 80 percent of the checks, pharmacists left their desks unattended, giving anyone nearby access to private medical information.
"Among the types of paper information unattended were doctors' prescriptions; completed health test authorization forms including patient medical history or test results; and patient call lists, listing patient names, telephone phone numbers, and prescribed drugs," the report states.
A follow-up investigation in November and last month included visits to stores in Arizona, Illinois and Indiana. Investigators found private patient information left unattended 73 percent of the time, Change to Win reported.
Beth Givens, director of the San Diego-based Privacy Rights Clearinghouse, called Well Experience a terrible idea.
"Think about it for a moment. If you were to go to a doctor, would you want to be out in the lobby talking to your doctor?" Givens said.
"In terms of privacy, especially with the sensitivity with the kind of information that (pharmacists) handle, it should be behind a locked door with access only by a window."
Lee Tien, a senior staff attorney with the Electronic Frontier Foundation, said he recently co-signed a letter with the American Civil Liberties Union to the California Board of Pharmacy, expressing similar concerns.
"We're telling the board, 'you should look at this very, very carefully, because (based on the Change to Win report) the track record doesn't appear to be good," Tien said.
Virginia Herold, executive director at the state Board of Pharmacy, said her agency began looking into Change to Win's allegations last fall. In California, some 20 Walgreens stores have been configured to implement Well Experience, she said. But in all the random, unannounced inspections conducted to date, Board personnel have found pharmacists working in the pharmacy area, not in the desks on the shop floor, Herold said. She said the Board has not received any customer complaints about Well Experience.
The Change to Win report also questions pharmacists' ability to oversee technicians while they are working at the shop floor desks. The work stations include video-monitoring capability, both to track medications and to enable pharmacists to check that prescriptions have been filled correctly.
Geiser questioned the effectiveness of such oversight.
In an emailed statement on Friday, Walgreens spokesman Phil Caruso claimed that "In each of the more than 30 states where we have presented our new model to the State Board of Pharmacy, we have been allowed to proceed with it or with some unique accommodations for state regulations."
But John Gadea, Connecticut's director of state drug control, said his department did question Well Experience in a review last year.
"There's the (theft) issue, there's the error issue, there's the supervision issue, there's the privacy issue that we were all concerned about here," he said.
"The next move was for Walgreens to bring this in front of the board on a formal request. That request never came."
At the Maryland Board of Pharmacy, legislation and regulations manager Anna Jeffers said concerns over supervision led regulators to bar Well Experience last year.
In a follow-up interview Monday, Caruso voiced surprise at Gadea's and Jeffers' accounts.
"The information is not lining up with what I have," he said.