Which company offers the best cell phone service?
by Herb Weisbaum, Today.com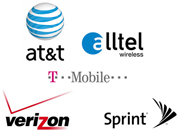 We love our mobile phones. It's hard to imagine life without them. But that doesn't mean we're happy with our wireless providers. Oh, no. We're not.
"No one is ever going to be completely satisfied with their phone service," said Eddie Hold, an industry analyst with the research firm NPD Group. "We expect it to be perfect all the time and that means we're going to be disappointed."
Of the four major nationwide wireless companies, Verizon and T-Mobile did the best job of making their customers happy, according to the annual ratings from Consumer Reports, but once again this year, smaller companies beat all the big guys.
The results, released on Thursday, are based on survey data from more than 58,000 subscribers in 23 metro areas. Companies were rated on a variety of factors, including value, quality of voice, text and data, as well as customer service.
For the big guys, Verizon had the highest overall score, 71 out of 100 points. Consumer Reports calls the company "a standout" for data service and resolving customer support issues.
T-Mobile (65) and AT&T (64) rated a peg behind Verizon. Sprint (59) came in last. It received low marks for value, voice, text and 4G reliability.
"Once again this year, Verizon is at the top of the list, but there's not a meaningful difference in scores between Verizon and T-Mobile in about 17 of the 23 markets," noted senior editor Jeff Blyskal. "T-Mobile is a great bargain because they're up there with Verizon in terms of satisfaction and quality, yet they're lower priced."
T-Mobile has tried to differentiate itself from the competition with its new "Simple Choice" service plan rolled out this year. It uncoupled the cost of the phone from the cost of the service. Customers who choose this plan are not required to sign a contract. They can spread out the cost of their phone over a 24-month period and upgrade whenever they want.
AT&T had the most problem-free 4G service. Consumer Reports called AT&T the best choice for heavy smart-phone users who need reliable high-speed data service.
Smaller may be better
Smaller companies continue to be the customer-service stars in this industry. Consumer Cellular topped the ratings at 88 out of 100 points. It received high marks for service, value and customer support. U.S. Cellular (75) and Credo Mobile (73) all scored higher than the majors.
Consumer Cellular, based in Portland, Ore., aims for the senior market. It does not require a long-term contract and you don't need to buy a phone from them to use the service. Voice plans start at just $10 a month. The company, which uses the AT&T network, has coverage in most of the country and scored much higher than AT&T.
The prepaid option can save you money
Prepaid mobile service, which offers a money-saving alternative to standard phone plans, continues to grow in popularity.
With standard cell-phone service, you buy the phone from the carrier at a discount. The company makes back the difference with a higher monthly rate. That's why you're required to sign a two-year contract.
With prepaid plans, the phone and service are two separate transactions. You buy the phone and then choose a service plan.
Prepaid carriers TracFone (80), Straight Talk (77) and Net10 (77) beat all four major carriers for service and got high marks for value. In fact, they've done better than the major carriers in this survey for the past few years.
Consumer Reports calls Straight Talk the standout for budget smartphones. You'll probably pay more for the phone upfront than you would with a company that requires a contract, but Straight Talk offers low-cost unlimited voice, text and data plans. The company received high marks for data.
Wireless is a different type of service
A funny thing about cell-phone service: a lot of customers complain about it, but don't switch companies. Most of the readers taking part in this survey stayed with their wireless provider after their contract expired — and they could change without a penalty — even though only half of them were highly satisfied.
Eddie Hold at the NPD group believes the industry is doing a better job than it gets credit for. He thinks much of the dissatisfaction has to do with price.
"The service is improving. Every year it gets better," he said. "The fact that so many people now rely on their wireless phone and have gotten rid of their landline at home shows that the carriers are doing a pretty good job."