Why You Shouldn't Get a Reverse Mortgage Just Because Fred Thompson Tells You to
by Ashlee Kieler, Consumerist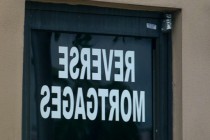 Turn on the TV and you're just about guaranteed to come face-to-face with a celebrity or public figure selling a product or service. While those spokespeople may carry an air of respect and trust with consumers, what happens when the product they so happily lent their voice to turns out to have devastating affects on the consumer? Not much really, but it might be time for that to change.
The use of celebrities in commercials for payday loan networks, for-profit colleges and reverse mortgage lenders isn't a new phenomena. In fact, consumer groups have warned of the dangers these types of products and their corresponding celebrity backers pose for consumers for years. …
Tom Feltner with the Consumer Federation of America tells Consumerist that concerns regarding celebrity appearances in advertisements for financial products and services is just one portion of a larger problem regarding potentially predatory financial products.
"I think that first and foremost the use of celebrity implies that consumers should have a certain level of trust regardless or not if that product suits a consumers financial situation," Feltner says. "The endorsement of a product that has public trust raises concerns."
Christina Tetreault, staff attorney for Consumers Union tells Consumerist that the goal when using a celebrity is to have whatever goodwill consumers have about that particular public figure transfer to the product being sold.
"This is typical in advertising," she says. "But is worrisome when applied to financial services because some of the financial products that celebrities back — such a payday loans — can be dangerous traps for consumers."
Tags: Advertising, Payday Loans, Predatory Lending, Reverse Mortgages, Senior Issues