Yelp Is Now Marking Businesses That Sue Reviewers
by Rosalie Chan, Time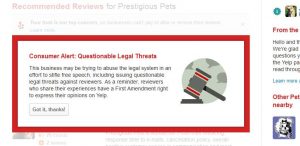 Yelp has begun to mark businesses that make legal threats against customers that post reviews on the site.
"Consumers have the right to share their opinions about their experiences with businesses, but there will always be a small handful of businesses who mistakenly think it's a good idea to threaten consumers who exercise their free speech rights," Yelp said on its blog.
Earlier this year, Prestigious Pets, a Dallas pet-sitting service, sued a couple who wrote a one-star review criticizing the business for damages of $200,000 to $1 million.
The alert will appear on a company's Yelp page and reads: "This business may be trying to abuse the legal system in an effort to stifle free speech, including issuing questionable legal threats against reviewers. As a reminder, reviewers who share their experiences have a First Amendment right to express their opinions on Yelp."