AT&T to Pay $105 Million over Unlawful Billing
by Edward Wyatt, The New York Times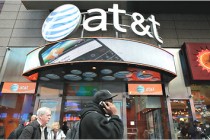 AT&T's wireless business will pay $105 million in penalties and refunds to consumers for unlawfully billing its customers' cellphone accounts, federal and state regulators announced Wednesday.
AT&T Mobility, one of the country's largest mobile phone companies, agreed to pay $80 million to the Federal Trade Commission to provide refunds to customers who were billed "hundreds of millions of dollars" in unauthorized charges for items including ringtones and text messages with love tips and horoscopes, the commission said.
In addition, AT&T will pay $20 million in penalties and fees to 50 states and the District of Columbia and a $5 million penalty to the Federal Communications Commission for the practices, known as mobile cramming. The settlement is the largest of seven such actions the F.T.C. has taken since April 2013.
"This case underscores the important fact that basic consumer protections — including that consumers should not be billed for charges they did not authorize — are fully applicable in the mobile environment," Edith Ramirez, the F.T.C. chairwoman, said in a statement.
AT&T said that it discontinued billing for those types of third-party charges in December 2013.
Continue reading » Free registration may be required, and the newspaper may pull the story from the Web.