Bill Aims To End 'Pink Tax' On Products
by Alia Ismay, San Diego Union-Tribune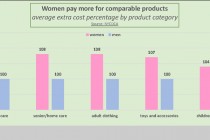 California legislators banned gender discrimination for services such as dry cleaning in 2001, and then prohibited discrimination against women in workplace compensation in 2015. Now a new bill aims to take the next step — banning gender discrimination in the price of goods.
The bill is authored by Sen. Ben Hueso and Assemblywoman Lorena Gonzalez, both San Diego Democrats.
"It is fair that retailers make a profit," Hueso said, "but not when they go out of their way to test what consumers are willing to put up with."
The practice of targeting a certain population is not fair, Hueso said. The bill is about giving consumers a fair deal.
"We are in a country and state of people living under a lot of pressure," Hueso said. "This bill can help save consumers a lot of money."
A recent search of Target products online showed that prices for a children's interactive book were gender-based. The Hots Dots Jr. Princess Fairy Tales interactive book was priced at $19.99, while the gender neutral Favorite Fairy Tales version was $17.48.
The classic red Radio Flyer tricycle was available online for $59.99. The same tricycle in pink was $64.11.
Men's boot-cut Mossimo jeans were priced at $24.99, while women's were $27.99.
Continue reading on the San Diego Union-Tribune website »
Tags: 2016 Legislation, Ben Hueso, CFC, CFC Sponsored Legislation, Discrimination, Lorena Gonzalez, SB 899