DeVry University Must Stop Claiming That 90% Of Grads Get Jobs
by Ashlee Kieler, The Consumerist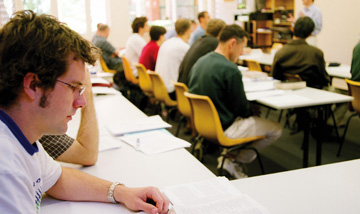 Many for-profit college chains recruited students through ads touting exceedingly high job-placement rates, but as we've seen from the recent collapses of chains like Corinthian Colleges Inc. and ITT Tech, those placement statistics can be artificially inflated. This week, for-profit educator DeVry Education Group agreed to be more honest and transparent about the job-placement claims in its ads and recruitment materials.
DeVry had long touted in its marketing that, since 1975, 90% of its graduates seeking employment had found jobs in their respective fields within six months of graduation. However, as part of a new settlement with the Department of Education, the school has agreed to stop making this claim.
The settlement [PDF], which also requires DeVry to increase its five-year letter of credit to no less than $68.4 million and better disclose job-placement rates to prospective students, stems from an Aug. 2015 request by the Dept. of Education that the school provide data and other information to substantiate the 90% claim.
After reviewing the information that DeVry provided, the Federal Student Aid office found that the school could not provide evidence to support the claims.