FCC Cracks Down On Verizon Wireless For Using 'Supercookies'
by Andrea Peterson, Washington Post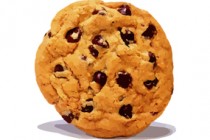 The Federal Communications Commission is cracking down on Verizon Wireless for using a powerful type of code to track its customers around the Internet, as the agency pushes to increase its role in protecting online privacy. The code, dubbed a "supercookie" by privacy advocates, is almost impossible to disable and could allow almost anyone to follow users around the Web.
Under the terms of a settlement agreement announced Monday, Verizon must pay a $1.35 million fine and will only be able to use the tracking mechanism when users connect to Verizon's corporate family of services unless the company gets customers' opt-in consent. Broader use could leave customers' Web habits visible to outsiders.
"Consumers care about privacy and should have a say in how their personal information is used, especially when it comes to who knows what they're doing online," said FCC Enforcement Bureau Chief Travis LeBlanc, in a press release.
"Verizon gives customers choices about how we use their data, and we work hard to provide customers with clear, complete information to help them make decisions about our services," Verizon said in a statement about the settlement. "Over the past year, we have made several changes to our advertising programs that have provided consumers with even more options. "
Verizon began putting a unique string of characters into customers' web browsing in 2012 to help target its advertising program. The practice came to the public's attention in late 2014, when it received criticism from privacy advocates who called the code a "supercookie" because it was almost impossible for users to avoid.
Continue reading on the Washington Post's website »
Tags: Deceptive, FCC, Internet Service, Online Privacy, Privacy, Smartphones, Verizon