Flame retardant bill wins important industry support
by Gary Cohn, Capital & Main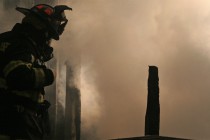 A consumer-rights bill that would require upholstered-furniture manufacturers to clearly disclose whether furniture sold in California contains flame-retardant chemicals recently received a huge boost when furniture manufacturers dropped their opposition to the measure and decided to support it. Senate Bill 1019, which is backed by firefighters, environmentalists and consumer protection advocates, is being bitterly fought by the chemical industry, whose campaign against regulation and clear public disclosure of flame-retardant chemicals is reminiscent of Big Tobacco's fight against government controls.
The furniture makers, however, switched sides after state Senator Mark Leno (D-San Francisco) agreed to an amendment clarifying the definition of flame retardants.
"AHFA [the American Home Furnishings Alliance] and principal members of the furniture coalitions withdraw our opposition of the bill pursuant to the inclusion of the amendments agreed upon to define flame retardant chemicals and offer this letter of support for S1019," Bill Perdue, AHFA's vice president for regulatory affairs, wrote in a letter to Leno. The bill is now also being supported by the North American Home Furnishings Association, the California Furniture Manufacturers Association and the Upholstery Furniture Action Council.
The measure is among nearly 400 other bills that are pending this week before the state legislature, which is scheduled to adjourn by midnight August 31. Three bills that have drawn the most intense lobbying include Assembly, which would require employers to provide paid sick leave for their workers; Assembly Bill 1897, which is intended to hold companies accountable for serious violations of workers' rights committed by their own labor suppliers, and Senate Bill 270, which would phase out single-use plastic bags by California grocery stores and other retailers.
Leno's SB 1019 could come up for a vote before the full Assembly as early as Monday. Its sponsors include the Oakland-based Center for Environmental Health (CEH), the Natural Resources Defense Council and the California Professional Firefighters union. (Disclosure: The union is a financial backer of Capital & Main.) For years, firefighters and environmentalists have warned of the dangers from upholstered furniture treated with flame-retardant chemicals that are linked to cancer, decreased fertility, hormone disruption and lower IQ development.
Although state safety regulations allow the use of flame retardants, their use is not required. The choice is left to manufacturers. According to environmental experts, flame retardants in furniture do not provide a meaningful fire safety benefit.
The American Chemistry Council, an industry trade group based in Washington, D.C., has run advertisements in the Sacramento Bee and San Jose Mercury News urging readers to "Tell the CA Assembly to oppose legislation that misleads consumers about weakened fire safety standards."
Judy Levin, the CEH's Pollution Prevention Co-Director, finds the ads ironic.
"It is funny that an industry that has been misleading the public for decades about the benefits of flame retardant chemicals is suddenly concerned about consumers being misinformed," she says. "The fact is that flame retardants have not been found to improve fire safety in our furniture and SB 1019 would provide consumers with truth-in-labeling for the first time."
Leno agrees. "It's almost humorous that the very industry which has lied and obfuscated for so many years is now promoting a campaign [claiming] that Californians 'have a right to know,'" Leno tells Capital & Main.
In an August 24 email to Capital & Main, the American Chemistry Council insisted that flame retardant chemicals play a critical role "in reducing fires and saving lives," adding that the council's "North American Flame Retardant Alliance launched an educational campaign in California to inform consumers and lawmakers about the critical role flame retardants play in reducing fires and saving lives."
Leno remains optimistic about his bill's chances.
"The good news is that the continual misinformation campaign of the opposition is not gaining traction," he says.
Tags: Mark Leno, SB 1019, Toxic Flame Retardants