Gender-Based Price Differences Could Be Banned
by Allen Young, Sacramento Business Journal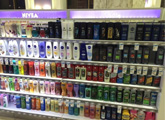 Imagine this scenario: A shopper enters a local Target store looking for shaving products. On one rack is a 12-pack of blue disposable Gillette razors for $7.99. A nearby rack has the same product for $12.99 — except it's pink and bears the word "Daisy" on the package.
The discrepancy, says Democratic Sen. Ben Hueso, amounts to gender discrimination.
Hueso has introduced a bill that would prohibit retailers from charging men and women different prices for "substantially similar" products, like shirts and shampoo. Supporters such as the Consumer Federation of California see the issue as a matter of consumer justice.
Existing law already prohibits gender discrimination when it comes to pricing for services. But the new proposal would extend the rules to cover consumer goods. Businesses that break the law would face penalties of $4,000 per violation.
"It's about time we stand up to the retailers and fight for equal product pricing for all," said Hueso, a San Diego Democrat, in a statement.
Senate Bill 899 passed the Senate Judiciary Committee along party lines this week and now heads to the Senate floor. A similar bill to remove sales taxes on tampons and sanitary napkins is also pending before state lawmakers.
Continue reading on the Sacramento Business Journal » (subscription required)
Tags: 2016 Legislation, CFC, CFC Sponsored Legislation, Scams