New CPUC President Promises Reform
by Jeff McDonald, San Diego Union-Tribune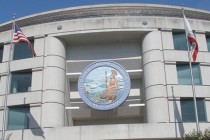 The new president of the California Public Utilities Commission issued a public pledge on Thursday to repair damage done by his predecessor, Michael Peevey.
Michael Picker, the former political consultant who was named commission president last month, read a lengthy statement at the outset of the first meeting of the year, promising to improve state oversight of California utilities.
He made reference to a series of emails reported by U-T Watchdog on Sunday, showing Peevey had breezy friendships with the utility executives he was charged with overseeing.
He arranged meetings with them at expensive restaurants, dropped commission business to meet with them in private and accommodated their requests to delay commission business to their advantage.
Picker said the emails "show easy access to CPUC decision makers by utilities and other interested parties. They are troubling and very painful to read. But they are being carefully looked at by federal and state investigations, in which we are fully cooperating."
Picker pledged to "move the agency forward with openness and transparency."
Continue reading on the San Diego Union-Tribune website » where a feature package includes former CPUC President Peevey's emails with utilities and other background;  UT San Diego limits free access to articles per month.
Tags: CPUC, PG&E, San Bruno Explosion