PG&E accused of obstructing justice in San Bruno blast probe
by Jaxon Van Derbeken, San Francisco Chronicle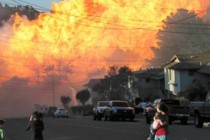 A federal grand jury indicted Pacific Gas and Electric Co. on Tuesday on a total of 28 counts stemming from the San Bruno natural-gas explosion, including a charge that the company lied when it denied it had an official policy of ignoring federal law requiring pipeline inspections.
The indictment, which replaces one that the same grand jury issued in April, does not charge any individual PG&E employees with wrongdoing. But it vastly increases the financial penalty the company could face in connection with the September 2010 blast that killed eight people and destroyed 38 homes.
The company was originally charged with a dozen violations of the federal Pipeline Safety Act, punishable by a total of $6 million in fines. The superseding indictment unsealed Tuesday in San Francisco means the utility could be punished by fines of as much as $1.3 billion, based on its profit associated with the alleged criminal conduct. That would be on top of $2.5 billion in possible penalties associated with state regulatory violations.
In all, PG&E is now accused of one count of obstruction of justice, for allegedly lying to National Transportation Safety Boardinvestigators after the blast, and 27 counts of violating the Pipeline Safety Act.
PG&E officials issued a statement saying they had not seen the new indictment, but that "based on all of the evidence we have seen to date, we do not believe that the charges are warranted and that, even where mistakes were made, employees were acting in good faith to provide customers with safe and reliable energy."
The company had pleaded not guilty to the earlier charges. It will have to enter a new plea to the superseding indictment.
More pipelines involved
The new charges add three natural-gas pipelines to the total that PG&E allegedly operated illegally under the Pipeline Safety Act, bringing the number to six.
The San Bruno pipeline was one of the six, federal prosecutors say. On several of the lines, PG&E relied on its own rules that it had substituted for federal regulations that require utilities to check gas pipes for damage after pressure surges occur, prosecutors say. Such surges can cause cracks in welds that hold pipelines together.
It was a cracked weld that ruptured on a transmission pipeline in San Bruno, triggering the explosion that devastated the Crestmoor neighborhood.
The San Bruno pipeline was among those where PG&E had failed to check for damage after gas-pressure surges over the years, the new indictment says.
Four of the other five pipelines cited in the indictment are also in the Bay Area – one that parallels the San Bruno line up the Peninsula, one running from Oakland to Fremont, one through central and eastern Contra Costa County and the fourth from Milpitas to near Livermore. The other pipeline cited in the indictment runs from Aptos (Santa Cruz County) to Santa Cruz.
PG&E's rules
Using company e-mails and other documents, prosecutors say PG&E told its engineers as early as 2009 that they needed to inspect pipelines for damage only when pressure surged 10 percent above federally allowed levels. Federal law specifies, however, that any pressure surge above allowable levels must result in a test for damage.
PG&E never disclosed its policy to regulators before the San Bruno explosion, the indictment says.
In March 2011, The Chronicle reported that PG&E had given federal officials a policy document that asserted it did not have to comply with the gas-pressure regulations. A month later, PG&E executives said the policy document had been a draft and was never in effect.
"We have no indication that it was ever approved," PG&E gas official William Hayes said of the policy in an April 6, 2011, letter to National Transportation Safety Board investigators.
The indictment says that denial was an obstruction of justice. It says investigators turned up records that showed PG&E repeatedly used the policy to avoid testing lines like the one that exploded in San Bruno.
Had PG&E heeded the federal rules, the company would have had to use costly methods to check for pipeline damage such as testing with high-pressure water or running automated devices through lines. Instead, PG&E heavily relied on an above-ground method approved only to check for corrosion, not weld cracks, and did so only during regularly scheduled testing, not after pressure surges.
In his 2011 letter, Hayes acknowledged that PG&E had avoided inspecting some lines where pipeline pressure exceeded federal limits. PG&E records given to federal investigators show at least a half dozen times where pressure surged on various lines, but the utility failed to order tests for weld damage.
The 27 counts against PG&E related to the Pipeline Safety Act deal with the same six gas pipelines. They allege that the company failed to keep proper records and failed to properly assess and test for safety problems on the lines.
'Pattern of deceit'
San Bruno Mayor Jim Ruane issued a statement saying the new charges "demonstrate a pattern of deceit by PG&E. … Multiple investigations found PG&E's tragic explosion to be entirely man-made and the result of its willful decision to divert pipeline safety funds and use them for executive compensation and shareholder returns for many decades."
In their statement, PG&E officials said they were "absolutely committed to re-earning the trust of all of the people we are fortunate to serve every day."
They added, "We are confident the legal process will ensure all of the facts are fully reviewed. In the meantime, we want all of our customers to know that we will stay focused on transforming this 100-plus-year-old natural gas system into the safest and most reliable in the country."
They noted that the company has spent $2.7 billion of shareholders' money on pipeline safety and improvement efforts since the San Bruno explosion.
Tags: PG&E, San Bruno Explosion