Pink Tax Repeal Act Aims To Make Pricing Fair To Women
by Carla Fried, Consumer Reports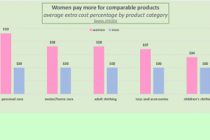 Women face some unique financial challenges. Not only do they earn less—about 21 percent less than men, on average, according to the Institute for Women's Policy Research, but they're often charged more for products that are very similar to those sold to men.
Last Friday, Congresswoman Jackie Speier (D-CA) aimed to put an end to pricing products according to gender. She introduced the Pink Tax Repeal Act—a bill that would prohibit companies from charging different prices for similar products or services simply based on the gender of the customer.
Consumers Union, the advocacy and policy arm of Consumer Reports, along with the Consumer Federation of America and other organizations supports the legislation.
"Price discrimination by gender is unacceptable. Yet, as Consumer Reports has found, products directed at women—through packaging, description, or name—can cost significantly more than similar products for men," said Laura MacCleery, Vice President of Consumer Policy and Mobilization for Consumer Reports. "We are proud to support Congresswoman Speier's legislation because all consumers deserve a marketplace where they can trust that they're getting a fair price."
The pink tax is pervasive across many products and services. After comparing nearly 800 products across five industries (children's toys and accessories, children's clothing, adult clothing, personal care products, and home health care products for seniors) the New York City Department of Consumer Affairs found that 42 percent of the time the versions aimed at women cost more than similar products from the same manufacturers sold for men.
Continue reading on the Consumer Reports website »

Tags: 2016 Legislation, CFC, CFC Sponsored Legislation, Deceptive, SB 899