State senator wants consumers to know what fire retardants they are taking home
by Samantha Weigel, San Mateo Daily Journal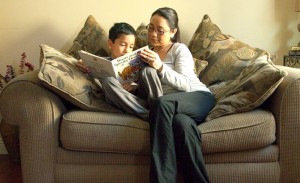 Scrutiny over the widespread use of flame retardant chemicals led California to update its flammability standards last year and now state Sen. Mark Leno, D-San Francisco, wants to provide consumers with the ability to make well-informed decisions over what they bring into their homes.
Senate Bill 1019 was introduced Thursday and would require upholstered furniture to be clearly labeled as to whether flame retardant chemicals were used in its manufacturing, Leno said.
Environmental and health experts as well as fire professionals spoke in support of SB 1019. This bill isn't about flammability standards; it's about transparency, said Judy Levin, pollution prevention co-director with the Center for Environmental Health.
"[SB 1019 will] enable consumers to have the information they need to make informed choices about whether or not they want to buy furniture that has chemicals," Levin said.
But some proponents of the chemical industry argue the bill's supporters are not considering fire safety measures and fear consumers will be opting for products that are more hazardous during a fire.
"Scientific studies show that flame retardants help save lives by stopping fires from starting or slowing their spread," Bryan Goodman, spokesman for the North American Flame Retardant Alliance, wrote in an email. "We are concerned that proponents of the bill seem to be focused exclusively on opposing the use of flame retardants when they should be concerned that an important fire safety standard for upholstered furniture, which has protected Californians for decades, was recently removed."
California's 1975 flammability standard, which led to the industry's use of flame retardant chemicals, was revised last year.
Gov. Jerry Brown instructed the Bureau of Electronic and Appliance Repair, Home Furnishing and Thermal Insulation to evaluate the efficacy of flame retardant chemicals in protecting consumers against fires. The bureau determined these chemicals do not provide meaningful safety benefits and returned with Technical Bulletin 117-2013, which now requires upholstered furniture to withstand smoldering instead of a direct flame.
TB 117-2013 allows "manufacturers to meet the fire safety standards without the need of chemicals and then to communicate [through SB 1019] whether or not these products have chemicals to the consumers is a great step," Leno said.
The current law requires upholstered furniture and bedding to have a securely fastened label stating it conforms to the standards of the bureau. SB 1019 would further require the labels to plainly state if the product does or does not contain flame retardant chemicals.
If the product does contain added flame retardants, furniture manufacturers and retailers would also be required to make a good-faith attempt to keep a list of the types of chemicals used in production.
Motivation for the updates stemmed from growing research on the environmental and health effects of exposure to flame retardants. These chemicals are correlated to cancer, can interfere with hormone and thyroid systems and children exposed in the womb can have lower IQs, attention problems and there are links to autism, said Dr. Sarah Janssen with the University of California at San Francisco.
"California house dust is highly contaminated with flame retardant chemicals … which we either inhale or ingest," Janssen said. "California homes, wildlife that lives in California and people in California, especially children, contain some of the highest levels of flame retardant chemicals than anywhere else in the world."
California's standard became the de facto regulation for furniture throughout the country, as it would be unrealistic for manufactures to produce furniture exclusively for one state.
Goodman argues the chemical industry already has federal oversight and the issue is about protecting consumers during a fire.
"Yet, many Californians are unaware of this reduction in fire safety regulations. It is important to remember that there are already agencies that are responsible for evaluating chemical safety," Goodman said. "In fact, flame retardants, like all chemicals, are subject to review by the [Environmental Protection Agency] and other governmental agencies in the U.S. and around the world."
However, flame retardant chemicals become extremely toxic when burned and have devastating effects on those who are exposed, said Lou Paulson, president of the California Professional Firefighters.
"We're supporting this for firefighter safety. Also to let the public understand clearly what they're purchasing, what they're sitting on," Paulson said.
Leno said SB 1019 is simply about providing consumers with facts and the ability to make informed decisions. With this bill, Leno said he hopes the market demand will phase out the use of flame retardant chemicals in upholstered furniture.
"The more consumers know about these chemicals, which certainly have great risks to their health and for their families, that if they have an option and that option is no more expensive, than I believe people are going to err on the side of caution and purchase a product that is … equally safe to another product," Leno said. "Over time, the market will drive us to a day not far from now when manufacturers will, and retailers will, find it not in their economic interest to manufacture or sell products with these dangerous chemicals."
Tags: SB 1019, Toxic Flame Retardants