CFC's 2015 Legislative Agenda: Fate Of 2-Year Bills Now Determined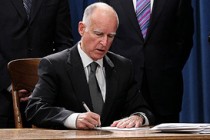 2/1/16 update: Two-year bills had to pass in their house of origin by January 31. The summaries below have been updated to reflect those bills' final status. 
OCTOBER 2, 2015—Consumer Federation of California advocated for or against dozens of bills in the state Legislature this year. Following are the results on several key pieces of legislation.
Signed 
SB 178 (Leno, D-San Francisco) privacy; electronic communications; search warrant: would require police to obtain search warrants to access information from smartphones and other electronic devices. Read CFC's March 24 letter of support.
SB 501 (Wieckowski, D-Fremont) wage garnishment restrictions: would restrict the amount of low- and moderate-income workers' disposable earnings that are subject to garnishment for debt. Read CFC's April 30 letter of support.
Vetoed
SB 660 (Leno, D-San Francisco/Hueso, D-San Diego) Public Utilities Commission reform: would curb the power of the California Public Utility Commission's president, board and key staff, and provide greater transparency in electricity rate-setting procedures. Read CFC's May 28 letter of support. Find links to additional background and resources in CFC's SB 660 bill blog.
AB 265 (Holden, D-Pasadena) consumer protection; buy-here-pay-here dealers: would restrict car dealers that offer special financing for purchases (typically to consumers with poor credit or no credit history) from immobilizing a vehicle when a buyer is behind on payments; passed both houses without an opposing vote, signed into law August 12. Read CFC's letter of support.
AB 573 (Medina-McCarty) higher education: campus closures; would have provided some much-needed relief to 13,000 California students who were left in debt and with little to show for their coursework following the shutdown of Corinthian Colleges Inc. See our updated AB 573 bill blog for more detail.
CFC-Sponsored 2-Year Bills: 1 Survives, 1 Dies
SB 648 (Mendoza, D-Artesia), would improve seniors' assisted-care referrals by requiring licensing of private agencies that refer seniors to residential care facilities for the elderly, as well as disclosure of payments a referral agency receives from a facility. [January 2016 update: SB 648 passed the Senate January 27. Anthony Cannella (R-Ceres) joined all Democrats in favor; All Republicans were opposed except Tom Berryhill (R-Modesto), who did not vote – the same as voting No. The bill now goes to the Assembly.  Read our SB 648 bill blog.
AB 886 (Chau, D-Arcadia): would have limited the personally identifiable passenger information that Uber and other ride-summoning services can collect or share; CFC sponsored AB 886. [January 2016 update: AB 886 died in the Assembly Utilities and Commerce Committee without a vote]. Read our AB 886 bill blog.
CFC Co-Sponsored 2-Year Bill (Withdrawn By Author)
SB 763 (Leno, D-San Francisco) juvenile products; flame retardant chemicals: would have required disclosure of the presence/absence of toxic flame retardants in children's products; co-sponsored by CFC, California Professional Firefighters and the Center for Environmental Health. Senator Leno withdrew SB 763 due to hostile amendments approved in the Assembly Appropriations Committee. See our updated SB 763 bill blog for details.
CFC-Supported 2-Year Bills (Now Dead)
AB 24 (Nazarian, D-Sherman Oaks) would have required on-demand ride services such as Uber to regularly check participating drivers' Department of Motor Vehicles records and to provide for controlled-substance and alcohol testing. Read CFC's letter of support. [January 2016 update: AB 24 was declared dead January 22.]
AB 708 (Jones-Sawyer, D-Los Angeles) would have required additional disclosure of hazardous chemicals in cleaning products. Read CFC's letter of support. [January 2016 update: AB 708 failed a January 28 Assembly Floor vote. Most Republicans voted No except for Dahle, Hadley, Maienschein and Mathis, who did not vote – the same as voting No. Most Democrats voted Aye, but Frazier, Quirk and Salas voted No, and the following Democrats did not vote – again, the same as voting No: Burke, Calderon, Campos, Cooper, Daly, Eggman, Cristina Garcia, Eduardo Garcia, Gray, Lopez, Medina, O'Donnell, Ridley-Thomas and Rodriguez.
SB 482 (Lara, D-Bell Gardens) would have required a medical provider to consult a database of controlled-substance prescriptions before prescribing controlled substances to a patient for the first time. Read CFC's letter of support.
CFC-Opposed 2-Year Bills  (Now Dead)
AB 739 (Irwin, D-Thousand Oaks) would have encouraged communication of data breach and cybersecurity threat information. Read CFC's letter explaining why we opposed the bill due to its sweeping immunity provisions for private-sector data breaches. [January 2016 update: AB 739 was declared dead January 22.]
AB 925 (Low, D-Campbell) would have permitted businesses to secretly record consumer phone calls. Strenuous opposition from CFC and other consumer, privacy, senior, student, labor and immigrant advocacy groups led to amendments limiting the scope of secret phone call recording, and the bill was held in the Assembly Appropriations Committee. Read CFC's AB 925 bill blog and our detailed analysis. [January 2016 update: AB 925 was declared dead January 22.]
SB 26 (Hernandez, D-Azusa) would have declared legislative intent to establish a California Health Care Cost and Quality Database: Held in Senate Appropriations Committee. Read CFC's letter of opposition seeking enhanced patient privacy protections. [January 2016 update: SB 26 was declared dead January 22.]
Tags: 2015 Legislation, CFC