Comcast Sued For Turning Home Wi-Fi Routers Into Public Hotspots
by Benny Evangelista, San Francisco Chronicle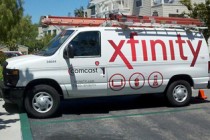 Two East Bay residents are suing Comcast for plugging their home's wireless router into what they call a power-wasting, Internet-clogging, privacy threatening network of public Wi-Fi hotspots.
The class-action suit, filed last week in U.S. District Court in San Francisco on behalf of Toyer Grear and daughter Joycelyn Harris, claims Comcast is "exploiting them for profit" by using their Pittsburg home's router as part of a nationwide network of public hotspots.
Comcast is trying to compete with major cell phone carriers by creating a public Xfinity WiFi Hotspot network in 19 of the country's largest cities. The company is activating a second high-speed Internet channel broadcast from newer-model wireless gateway modems that residential customers lease from the company. It plans to spread to 8 million hotspots by the end of the year.
The secondary signal is supposed to be separate from the private Wi-Fi channel customers use, and it is intended for houseguests or Comcast subscribers who happen to be in range and using mobile devices.
The Philadelphia company, which owns the nation's largest cable TV service and entertainment giant NBCUniversal, began activating the secondary channel in the Bay Area this summer.
Continue reading on SFGate.com »
Tags: Class Action, Comcast, Internet Service, Wi-Fi