One Dead And Three Injured In PG&E Natural Gas Line Explosion Southwest Of Bakersfield
by Steven Mayer, J.W. Burch IV, James Burger and John Cox, The Bakersfield Californian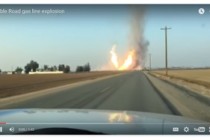 One person died and three others were sent to the hospital with second- and third-degree burns Friday afternoon after a natural gas line explosion sent flames hundreds of feet into the air near Houghton and Wible roads southwest of Bakersfield.
Flames from the ruptured line could clearly be seen from the top of the City of Bakersfield's 18th Street parking structure in downtown Bakersfield, at least 10 miles from the blast.
"A third party, more than likely a farmer, hit the line with a piece of heavy equipment," Kern County Fire Department Capt. Tom Ellison said. "The operator of that vehicle was killed."
Witness Marla Proffitt, who supplied dramatic video of the flames from the passenger seat of a pickup, said the fire was such that it "heated the interior of our truck, and the roar was louder than a jet engine.
"Unfortunately the vehicle and house (near the blast) were all but gone and a hay barn also was burning," Proffitt said in a text. "I don't see how anyone still in the house could've survived once the flames got there."
The push of gas and flames threw trees into the air, she said.
The state's primary regulator of natural gas lines, the California Public Utilities Commission, said it had sent an investigator to the site.
Continue reading on the Bakersfield Californian website, which also has dramatic video of the towering flames »