Apple 'least green' tech company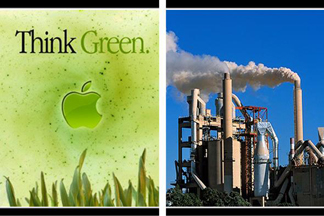 Apple came in at the bottom of the most comprehensive "green" group of technology companies in 2011 because of its heavy reliance on "dirty data" centers in its supply chain. The list, compiled by Greenpeace, shows that the company relies heavily on highly polluting coal power at the sites that house its banks of servers. The report, How Dirty is Your Data? highlights the company's investment in a new North Carolina facility, tripling its electricity consumption, using up the same electricity required for 80,000 average U.S. homes. Only 4% of its energy comes from renewable sources; 61 percent comes from coal.(1)
Additional examples of anti-environmental behavior:
Apple was forced to stop shipping products, including the eMac personal computer and the AirPort wireless access point, to Europe in 2006, because the products did not comply with the European Union Restriction of the Use of Certain Hazardous Substances in Electrical and Electronic Equipment Regulations.
In response, company shareholders introduced a resolution at a 2007 meeting to request the company eliminate the use of persistent and bio-accumulative toxic chemicals, all brominated flame retardants and polyvinyl chloride plastics in its products. However, Apple's board of directors recommended that shareholders vote down the resolution and allow the company to stick to its current way of conducting business.(2)
Apple's environmental policies came under fire from Greenpeace back in 2007, with the report, Guide to Greener Electronics. Greenpeace gave Apple a score of 2.7 out of 10. Ranking criteria for this report reflected the demands that companies (1) should clean up their products by eliminating hazardous substances, and (2) take back and recycle products responsibly once they become obsolete.(3) In 2012 Apple improved its score to 4.7, but that is still poor performance.
The many criticisms of Apple's environmental policies has not just come from the West. The Beijing-based Institute of Public and Environmental Affairs, a coalition of Chinese environmental organizations, brought to light problems of pollution and poisoning in Apple's supply chain in China. Its 2011 report, The Other Side of Apple, condemned Apple and its Chinese suppliers for discharging polluted waste and toxic metals into surrounding communities and threatening the health of the public living nearby.
According to the Institute of Environmental Affairs, even when faced with specific allegations of anti-environmentalism regarding its suppliers, the company stated, "it is our long-term policy not to disclose supplier information." A large number of supplier violation records have been publicized; however, Apple has chosen not to face such information and continues to use these companies as suppliers. The Institute claims, "This can only be seen as a deliberate refusal of responsibility."(4)
In 2012 Apple withdrew the company's product line from the global registry for the green electronics program, the Electronic Product Environmental Assessment Tool (EPEAT), due to the fact that its products no longer qualified for a green certification. EPEAT measures the environmental impact of electronics and is used by many corporations and governmental organizations as a yardstick on enterprise purchases. This move essentially cut off all of its business with the federal government.(5)
As expected, the San Francisco Department of Environment notified its agencies that Apple products no longer qualified for city purchases, and shortly thereafter, Apple wrote an open letter to consumers that removing Apple products from the EPEAT rating system was a "mistake" and that it would rejoin the environmental certification program.(6)
Apple has consistently done business at the expense of the environment and public health. Consumers must stop accepting the poisoning of the environment, the harm to communities, and the sacrifice of employee rights in exchange for its trendy electronic products. We need make a stand with our dollars, and stop purchasing Apple's products until it cleans up its act.
Also see:
•    Apple: A rotten core under a polished brand image
•    Apple: Enemy of consumer privacy
•    Apple's disregard for consumer privacy – a consistent policy
•    Why are we supporting Apple's sweatshops?
•    Poverty-level wages for Apple store employees
•    Apple's ebook price fixing
•    Apple: Using secret police as personal patent enforcers
•    Apple and the NSA: Violating American citizens' privacy
•    How does Apple avoid paying taxes? ($44 billion in the US alone)
•    When will the golden Apple fall?
____________________________
(1) "Apple named least green company." Marina Watson Pelaez. Time Tech. April 21, 2011. https://techland.time.com/2011/04/21/apple-named-least-green-company/
(2) "Apple product hazards put to shareholder vote." Robert Mullins. Mac World. April 23, 2007.  https://www.macworld.com/article/1057503/shareholder.html
(3) "Guide to greener electronics." Greenpeace International. April 3, 2007.  https://www.greenpeace.org/international/en/publications/reports/apple-guide-to-greener/
(4) "The other side of Apple." Institute of Public and Environmental Affairs. August 31, 2011.  https://www.ipe.org.cn/Upload/Report-IT-V-Apple-II.pdf
(5) Apple removes green electronics certification from products." Joel Schectman. Wall Street Journal. July 6, 2012. https://blogs.wsj.com/cio/2012/07/06/apple-removes-green-electronics-certification-from-products/
(6) "San Francisco officials plan to block Apple procurement." Joel Schectman. Wall Street Journal. July 10, 2012. https://blogs.wsj.com/cio/2012/07/10/san-francisco-officials-plan-to-block-apple-procurement/