Apple: Using secret police as company patent enforcers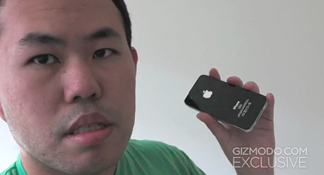 In March 2010, an Apple employee mistakenly left his iPhone prototype at a bar in Redwood City, California.(1) The person who found the prototype tried to return it to its rightful owner but instead ended up turning it over to Jason Chen, a tech news site Gizmodo employee, in exchange for $5,000. Gizmodo eventually returned the phone to Apple, but not before many photos and details about the prototype were published.
People identifying themselves as representing Apple visited and sought permission to search Chen's home. A roommate answered, but wouldn't let them in.(2)
Apple then turned to the California Rapid Enforcement Allied Computer Team, a multi-county task force that investigates high-tech crimes(3), to issue a warrant to seize computers from the home of Gizmodo's Chen.(4)
The team then entered Chen's home and searched for evidence related to Gizmodo's acquisition. According to the Electronic Frontier Foundation (EFF), the warrant did not reveal whether Chen was considered a criminal suspect, or what alleged crime the police were investigating. But Chen was not arrested. Even so, all of his computers and hard drives (among other materials) were seized.
EFF stated that under the Privacy Protection Act of 1980, which protects journalists from police rummaging through sensitive information contained in a reporter's notes and communications, law enforcement had no right to search the editor's home.(4)
The warrant was posted on Gawker Media's website and was criticized as a blatant example of Apple overreaching its authority.(5)
In August 2011, an Apple employee lost another top-secret iPhone prototype in a bar. After tracing the phone through the global positioning system, Apple employees asked the San Francisco Police Department to go with them to search the home of Sergio Calderón, where the missing phone was allegedly located.(6)
Plain-clothed officers accompanied Apple security to Calderón's home. The officers stood outside while Apple employees were permitted to scour his residence, car, and computer files for evidence of the lost iPhone – but found none. Incredibly, the police did not monitor Apple's employees while they were in the house.(7)
Calderón stated that six badge-wearing people visited his home and that none of them acknowledged being employed by Apple. One allegedly offered him $300 along with a promise that the owner of the phone wouldn't press charges if he returned the device. He also claimed that the visitors allegedly threatened him and his family, asking questions about their immigration status.(6)
Also see:
•    Apple: A rotten core under a polished brand image
•    Apple: Enemy of consumer privacy
•    Apple's disregard for consumer privacy – a consistent policy
•    Why are we supporting Apple's sweatshops?
•    How does Apple avoid paying taxes? ($44 billion in the US alone)
•    Apple's ebook price fixing
•    Poverty-level wages for Apple store employees
•    Apple and the NSA: Violating American citizens' privacy
•    Apple earned the title of "least green" tech company
•    When will the golden Apple fall?
_________________________________
(1) "This Is Apple's Next iPhone." Jason Chen. Gizmodo, April 19, 2010.  https://gizmodo.com/5520164/this-is-apples-next-iphone
(2) "Apple May Have Traced iPhone to Finder's Address." Evan Hansen. Gizmodo. April 27, 2010.  https://www.wired.com/threatlevel/2010/04/dude-apple/
(3) Note: Apple Inc. is a member of the California Rapid Enforcement Allied Computer Team steering committee.
(4) "OverREACTing: Dissecting the Gizmodo Warrant." Matt Zimmerman. Electronic Frontier Foundation. April 27, 2010.  https://www.eff.org/deeplinks/2010/04/gizmodo-search-warrant-illegal
(5) "Police Seize Jason Chen's Computers." Gawker Media. April 26, 2010. https://gizmodo.com/5524843/police-seize-jason-chens-computers
(6) "SF Police Allow Apple Agents to Search Private Home for Missing iPhone 5." Laura Matthews. International Business Times. September 4, 2011.  https://www.ibtimes.com/sf-police-allow-apple-agents-search-private-home-missing-iphone-5-308846
(7) "Lost iPhone: SF police aided Apple investigators." Will Kane.  San Francisco Chronicle. September 4, 2011.  https://www.sfgate.com/crime/article/Lost-iPhone-SF-police-aided-Apple-investigators-2311231.php