Apple's disregard for consumer privacy – a consistent policy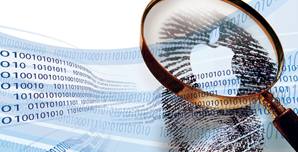 This year, the Consumer Federation of California sponsored a bill to restore privacy protections, permitting online businesses to collect only a customer's zip code and other limited information necessary to combat fraud or identity theft (the information would then be destroyed when the crime prevention purpose is concluded).
Apple has been the leading opposition to this privacy bill, which will be up for a Senate Floor vote in January 2014.
Unfortunately opposing privacy protections is not new for Apple, as they have continued to breach data protection and consumer rights over the years. Some violations that have recently occurred include collecting users' geographic information, giving unique identification numbers to app developers, installing spyware that couldn't be turned off, collecting data on children's app usage, and collecting address book information – all without users' consent.
In 2011, it was discovered that iPhones and iPads were logging users' geographical information and storing it unencrypted. An investigation disclosed that the iPhone and 3G version of the iPad were "regularly recording the position" of the devices "into a hidden file" ever since the arrival of Apple's iOS 4 operating system. Apple avoided the issue for weeks and finally said it was a bug(1).
That same year a Wall Street Journal report revealed that Apple had given unique identification numbers (UDIDs) of their customers' phones to app developers. UDIDs are tied to the individual device and cannot be altered, much like a car's vehicle identification number(2). The report found that the developers had been sharing the UDIDs with third-party ad networks, which allowed advertisers to track users' activity(3). In a class action lawsuit, consumers said they were harmed because they wouldn't have paid as much as they did for iPads or iPhones had they known that the devices were capable of transmitting private information. They also argued that transmitting data like gender, age, ZIP code, searches performed, "and selections of movies, songs, restaurants or even versions of the Bible" consumed battery power, storage and bandwidth(4).
In response, Apple urged the judge to dismiss the lawsuit because consumers were not harmed when privacy rights were violated. The company also claimed that its privacy policy confers "a broad right to collect, use and transfer both device identifier and location-related information"(4). The lawsuit ultimately ended up being dismissed, and Apple said it would stop the use of UDIDs in iOS 5, released later that year.
Even though Apple finally told developers to cease using UDIDs as a means of identifying customers, a 2013 study by the University of California suggests that 40% of all App Store products still contain them(5).
Also, in late 2011, a software researcher stumbled onto spyware made by Carrier IQ for smart phones with the ability to steal information and even keystrokes from smart phones, including Apple's(6). Following media pressure, Apple has tried to distance itself from Carrier IQ and claimed to no longer be in business with the software designer(7,8).
Apple has disregarded children's privacy by collecting data from apps that children use. After reviewing Apple's mobile apps stores, the Federal Trade Commission found most of them did not notify users that they were collecting data. A developer that made apps for Apple's iOS devices paid the U.S. government a fine for violating the Children's Online Privacy Protection Act(9).
Apple came under fire again in 2012 when people discovered that their iOS smart phone operating system allowed application developers to steal address books from iPhones, without permission from iPhone owners. Developers then shared personal information with third parties.
These revelations caught the attention of the U.S. House of Representatives, and Henry Waxman (D-Calif) sent a letter to Apple saying, "[t]his incident raises questions about whether Apple's iOS app developer policies and practices may fall short when it comes to protecting the information of iPhone users and their contacts"(10).
In addition to privacy breaches and data collected and sold to businesses, the federal government and intelligence agencies have direct server access to the world's most popular sites and services, including Apple's. This means that when using their services, your data is compromised.
The digital privacy nonprofit Electronic Frontier Foundation recently gave Apple one star (out of a possible six stars) on the report, Who has your back? Which companies help protect your data from government? EFF's numerous criticisms of Apple include that it does not require a warrant for content, does not tell users about government data requests, does not publish transparency reports, does not publish law enforcement guidelines, and does not fight for users' privacy rights in court(11).
While technology enables marketers to collect and aggregate data on our every move online, the speed of selling information is accelerating. The simple act of surrendering a telephone number can set in motion a cascade of events, as that data is acquired, analyzed, categorized, stored and then sold with our other personal data over and over again.
Online databases are highly vulnerable to hacking by crooks. Numerous reports allege that iTunes and other Apple databases are a favorite for identity thieves. Apple gathers personally identifiable information alongside credit card numbers, which is an irresponsible practice for this giant corporation to champion.
As Apple's disregard for consumer privacy continues, the company's cult-like following is beginning to erode. According to 2012 Most Trusted Companies for Privacy, a study that asks consumers to name and rate organizations they believe are most committed to protecting the privacy of their personal information, consumers don't think Apple is as trustworthy as they used to be. The exclusion of Apple from the top 20 surprised some because they had ranked 14th in the previous year's survey and was ranked as high as 8th a few years ago(12).
Also see:
•    Apple: A rotten core under a polished brand image
•    Apple: Enemy of consumer privacy
•    Why are we supporting Apple's sweatshops?
•    How does Apple avoid paying taxes? ($44 billion in the US alone)
•    Poverty-level wages for Apple store employees
•    Apple's ebook price fixing
•    Apple: Using secret police as personal patent enforcers
•    Apple and the NSA: Violating American citizens' privacy
•    Apple earned the title of "least green" tech company
•    When will the golden Apple fall?
_____________________
(1) "Got an IPhone or 3G iPad? Apple is recording your moves." Alasdair Allan and Pete Warden. O'Reilly Radar. April 20, 2011. https://radar.oreilly.com/2011/04/apple-location-tracking.html
(2) "Apple: Apps using address data are in violation, fix to come." Josh Lowensohn. CNET. February 15, 2011. https://news.cnet.com/8301-27076_3-57378551-248/apple-apps-using-address-data-are-in-violation-fix-to-come/
(3) "Your Apps Are Watching You." Wall Street Journal. December 17, 2010. https://online.wsj.com/article/SB10001424052748704694004576020083703574602.html#articleTabs%3Darticle
(4) "Apple Argues Consumers Not Harmed By Alleged Privacy Violations." Wendy Davis. Media Post. January 19, 2012. https://www.mediapost.com/publications/article/166178/
(5) "Half of iOS apps 'violate Apple's privacy policy.'" Mark Langshaw. Digital Spy. June 26, 2013. https://www.digitalspy.com/tech/news/a493520/half-of-ios-apps-violate-apples-privacy-policy.html
(6) "Carrier IQ: Which phones are infected, and how to remove it".  Sebastian Anthony.  Extreme Tech.  December 1st, 2011.  https://www.extremetech.com/computing/107427-carrier-iq-which-phones-are-infected-and-how-to-remove-it
(7) "Apple Distances Itself From Carrier IQ Privacy Fiasco".  Antone Gonsalves.  CRN.  December 1st, 2011.  https://www.crn.com/news/mobility/232200603/apple-distances-itself-from-carrier-iq-privacy-fiasco.htm
(8) "Apple Says It No Longer Supports Carrier IQ".  Steve Kovach.  Business Insider.  December 1st, 2011.  www.businessinsider.com/apple-iphone-carrier-iq-2011-12
(9) "FTC Spanks Apple App Maker for Childrens' Privacy Violations." Peter Kafka. All Things D. August 26, 2011. https://allthingsd.com/20110816/fcc-spanks-apple-app-maker-for-childrens-privacy-violations/
(10) "Ranking Members Waxman and Butterfield Want Answers from Apple on iPhone Address Book Privacy Concerns".  Representative Henry Waxman (D-CALIF).  House Subcommittee on Energy.  February 15, 2012.  https://democrats.energycommerce.house.gov/index.php?q=news/ranking-members-waxman-and-butterfield-want-answers-from-apple-on-iphone-address-book-privacy-c
(11) "Who Has Your Back?" Electronic Frontier Foundation. 2013. https://www.eff.org/who-has-your-back-2013
(12) "Google, Apple no longer among the 'most trusted' companies for privacy protection." Brad Reed. BGR. January 29, 2013. https://bgr.com/2013/01/29/google-apple-privacy-survey-310857